Hi. Do you have any ideas for solving this problem? Thanks.
Hi,
I have DMX with not a working keyboard. I can program the radio via CPS.
But when I press # and turn radio it looks is works mode upload firmware. I have to try to upload firmware 0.19 and the process was completed. After turn on again radio I have read data from a radio but how to verify the version of firmware loaded to the radio ? in general information is below information :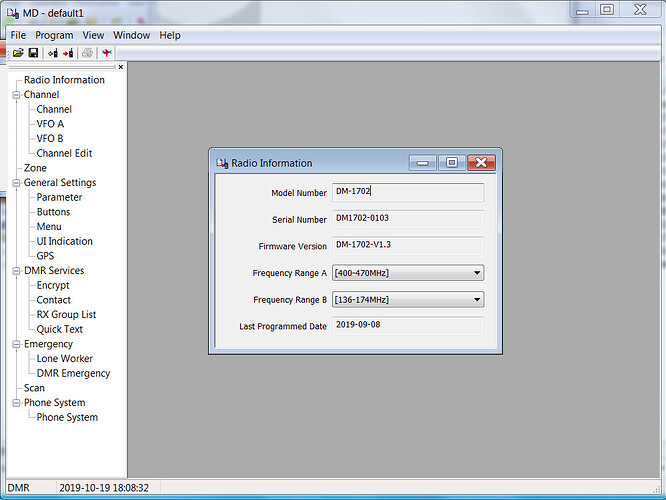 Hello.
What happened … everyone fell silent, stopped the discussions, the help … Not everything was said, suggested and resolved …
Dear, I have a Baofeng HT DM-X. And whether in the Manufacturer or the FCC, this radio is named BAOFENG DM 1702 B.
This means that it has the same system as the DM1702, the same board, with some external modifications, like different color keyboard. In addition, the programming software is the same as DM 1702. (Note: Link removed by Admin for acknowledgment of viruses).
Hi Arnaldo,
I just bought 4 x BaoFeng UV-5R UHF/VHF radios and I cant get a single local shop to deal with them or assist me with Chirp programming. I have been in touch with the Telecommunications System and everybody I speak with tells me that they are illegal to use in Australia. Obviously because they have every frequency used by every organisation and they dont like the general public having access to every govt organisation, I can not download the Australian Chirp frequency channels onto them and I wish I'd never bought mine either,
Cheers
Paul
Hi people
how are the successes in the work of the radio station 1702
have any interesting news that a new
Hi Daniil!
I bought another walkie-talkie. Everything works this time. Only APRS can't set it up. Our colleagues here in Bulgaria praised it with surprisingly good audio. Batteries are a problem. I will look for something quality. Previous walkie talkies had a problem with something: no sound amplification - it is constantly quiet, pre- or demodulation, audio interruption in digital mode, range, firmware.
I don't know why the comments stopped suddenly. Users are probably satisfied and have no problems. I had a hard time finding something on the Internet about our radios. Here in this forum in you and a few others I was able to tune the radio. Thank you very much. I'll write to you tomorrow if you have the opportunity to help. Thanks again.
I have BS ACT TIMEOUT error when I try to enter a local repeater. I can only speak if someone has just spoken and immediately press PTT. I can also receive perfectly. I have reviewed Color code, slot, frequencies and everything correct. The walkie emits 3 short signals when pressing the PTT but I have no response from the repeater and gives the BS ACT TIMEOUT error. I would greatly appreciate any help.
Hello Joaquin.
As far as I know BS ACT TIMEOUT is displayed when the setting is incorrect or you don't have a range with the DMR repeater. Another guess is that APRS or GPS is broadcasting its data by pushing PTT.
Hello
as I understand this topic is no longer interesting to anyone
maybe we'll close it because no one is sharing the news
Hello. My impression is the same. Everything seemed to run out. Nevertheless, I am satisfied and enjoy it. With someone else's help, I was able to launch the APRS. Works in digital mode only. An analog APRS will need an external device. Perhaps the Chinese will launch a new update that will expand the possibilities. For basic radio and beginner, I think it's a good choice.
73! and greetings
Hi guys,
I see Raypath on 20 oct, Serial number and firmware version.We have 2 DM-X about 8 weeks old, both report V2.2.022 on the radio display.
MD v1.00.78 reports both radios with the same serial (0103) and firmware version (V1.3) as Raypaths radio.
MD reports this info in both the radio information and the embedded message menus. Also it records this in a saved data file. ie read the radio and save directly.
I don't have the radios here so I can't tee off the USB transfer between the radio and PC to investigate this further at the moment. But MD must be reporting the firmware version from the radio because I have found other DM1702 codeplug data files with FFs in that part of the codeplug and MD shows no model,serial or firmware version in either menu .
But I am expecting a new one from Abbree this week and have the /OK2MOP/MD1702-tools installed for when it arrives.
Do all the radios have the same Serial number?
And is it only version 2.2.022 firmwares that report V1.3? Because if the CPS program thinks its got a V1 firmware when its actually V2 its explains why these 2 radios we have are so screwed up!
VK3BIA
Hello
share information
what did you do for this
Hello FRENDS
a question
how to specify a group number name
there is a group with different digital numbers
example
300 departure
315- pilot
314- control
when the radio is working, only numbers are displayed (300/315/314)
how to configure to display the name
Hello Daniil.
Where do you see these settings? I don't see such a thing. Would you share a screenshot?
It works under the 1702B as the same radio but the only software I have found that will work that is presently available on the internet is MD(External)Radio Program Software. It is a program that has the limit of no import from anything but does work to flash the radio and read the radio… You do not need to put the radio into any mode just turn it on and plug in the 2x3 prong plug and then the usb to computer. It should work when you send and press okay. Although I am having the same message on radio when I try to activate the repeater that is when too far away or no response from repeater.
Hello Colleagues
please tell me how to extract a record
talking from a radio station
really need to do this!!!