Hello, new guy here (introduced myself in the introduction section.)
I own a crappy race car I race with my buddies in the 24 hours of Lemons series. We currently use a very inexpensive BTECH MURS radios.
We have one mounted in the car, with a roof mounted antenna and one in the pits with an extended antenna. It's a basic set up that has served us very well.
In the car we connect the radio via a NASCAR style (3 Pin) wiring harness.
(This one specifically)
The routing looks like this….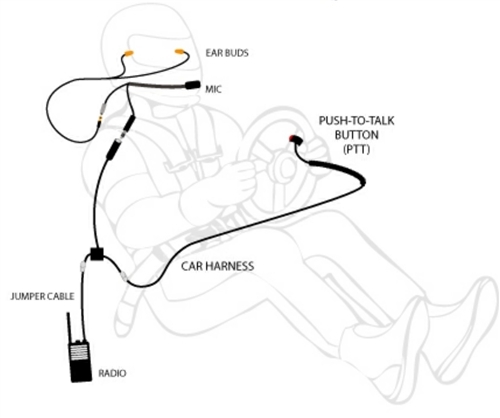 We also run a small camera in the car, which livestreams to YouTube from the car. It has a 3.5mm microphone input.
What I'm trying to accomplish is to build a small circuit to plug in-line with the radio harness. I'd like to capture ambient audio with a small microphone and have that feed through the circuit to the camera. I'd also like to have the circuit switchover to record the race audio when radio traffic, either incoming or outgoing, is detected.
A device like this already exists, but it is $264. I'm hoping this can be built cheaper. (I'm cheap, which should be obvious by my communications set up.) But I am handy with a soldering iron, and do have a basic understanding of electronics. (Very basic.)
I'm hoping someone here has some advice and can steer me in the correct direction.
Thanks in advance for the help and advice.